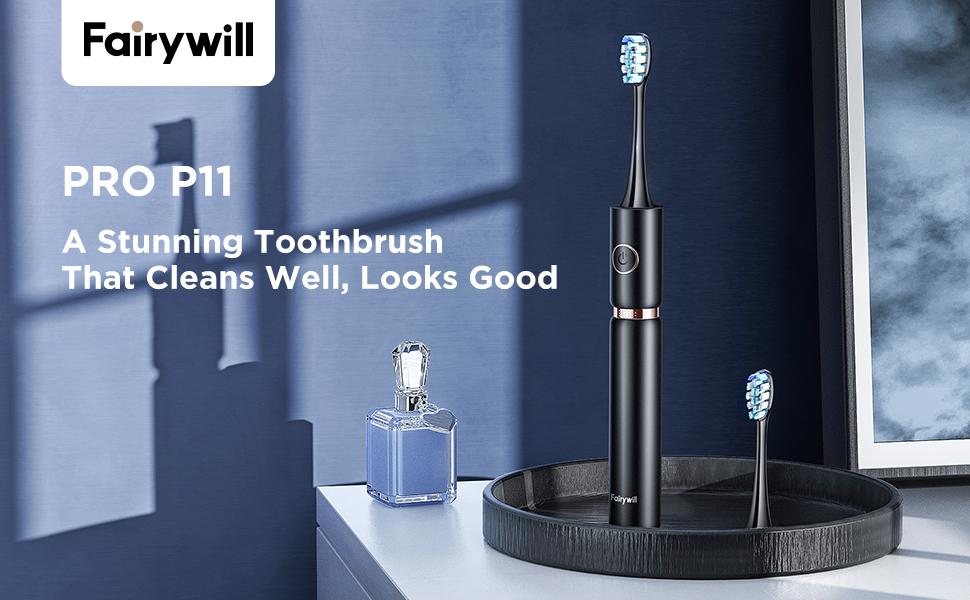 Fairywill P11 delivers you great looks and unbeatable performance.
Featuring a gold-tone ring combining bold styling and rugged construction,
P11 was awarded Red Dot Winner 2020.
A simplified appearance lets you enjoy teeth brushing in daily life.
Industry-leading 3rd generation Maglev Motor delivers 62,000 brush movements each cycle,
effectively removing stains and improving your gum line health.

RED DOT PRODUCT DESIGN WINNER 2020
Fairywill P11 electric toothbrush perfectly combines the stylish appearance and reliable functionality.
The gold ring features not only unique styling but also different brushing modes.
Comes with Clean, Gentle, and Massage modes, P11 takes care of your personal brushing needs.
ADVANCED MAGLEV MOTOR TECH
Delivering 62,000 brush movements, P11 whips up toothpaste into bubble to clean deep between teeth.
Removes 10x more stains along the gum line than a manual toothbrush,
and 3x more than legacy outdated electric toothbrushes.
Offers you a dental clean that wows.
INTEGRATED HANDLE FOR HEALTHIER BRUSHING
Lots of germs when using the toothbrush with opened display panel?
P11's innovative handle is here to solve your problem.
Possessing an integrated handle,
it effectively keeps out foam residue and mildew from reaching out to any component parts.
Not only ensure a healthier brushing experience but also extend its lifespan effectively.

CHARGELESS, LASTS LONG
Say goodbye to charging a toothbrush for 24 hours and lasting only a week or even 2 - 3 days.
Now with this P11, you can charge merely 2 hours for 30 whole days using.
The USB port makes charging easy during travel.
Simply charge it with power banks, laptops, and any devices with a USB socket.
TAKE YOUR TOOTHBRUSH ON-THE-GO
Comes with a matte, compact case, it is your fashion choice when going for travel.
The case houses two brush heads, which enables couples to share on the go.
Its portability ensures you commit to the same quality tooth care as you do at home.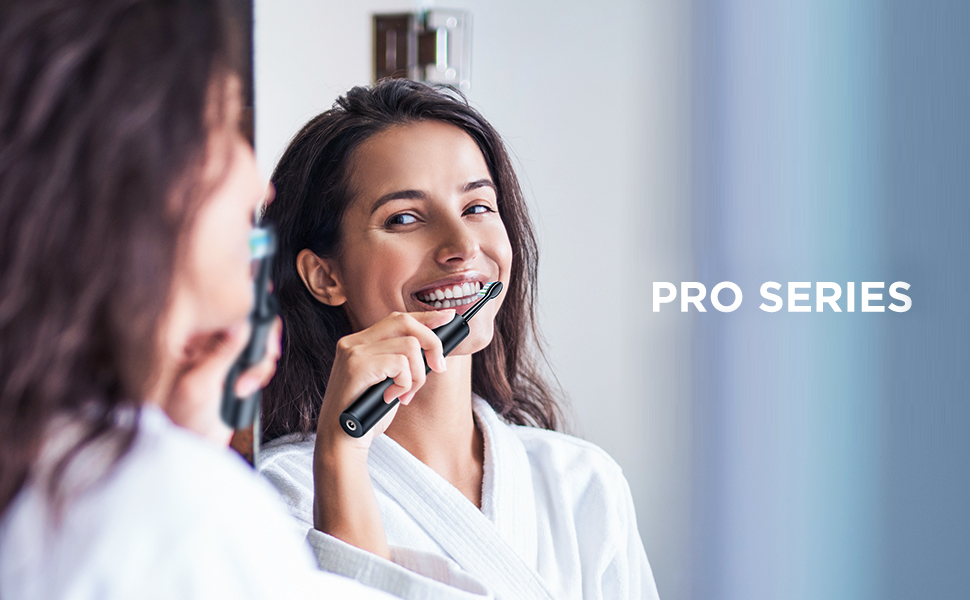 Product Specifications:
Model: P11 Plus
Brushing Modes: 3 Modes (Clean, Soft, White)
Battery Type: Rechargeable Li-ion Battery
Main Features: Smart Timer, Waterproof,
Replaceable Brush Head with Replacement Indicating Bristles,
USB Charging, Fast Charging, Low Battery Reminder
Certification: In Compliance with FCC, CE, ROHS, ICES Standards
Package Includes:
Toothbrush Handle x1
Replacement Heads x8
Travel Case x1
USB Cable x1
User Manual x1